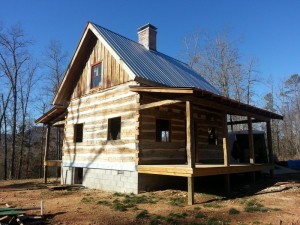 Updated 1-26-2013.   This cabin is nearing completion.   We pulled off construction on this cabin thru the summer and late fall because the owners were using traditional cement chinking on this project and the weather was just too hot to get the chinking done.   The chinking has now been completed, and we should be finishing this cabin in the next week or so.   I will have more pictures of the completed cabin soon.
Updated 6/20/2012.      We have just started a very unique project.  Construction of an Antique Log Cabin near Mt. Judea, Arkansas.   This cabin will have two floors, and is 20′ x 22′.   We are providing the foundation, sub-flooring, porches, and roof construction for the cabin, and a company from near St. Louis, Missouri,  Antique Logs Unlimited, is providing the Log Walls, Antique beams, Rustic Siding and Chinking for the project.   We are really excited to be a part of such a unique build and are excited to be partnering with Antique Logs Unlimited for this project.  We hope this is a start of something that we can build upon in the future.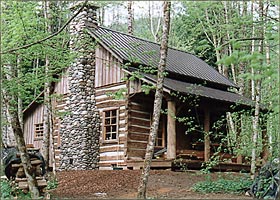 Antique Logs Unlimited travels all over the U.S. reclaiming old cabins, barns, etc. and saves their materials for construction of cabins just like this one.   They re-purpose the materials and use them for unique, one of a kind cabins that people can enjoy for many more years to come.  Using this process, they save the materials which would eventually be destroyed because many of these structures are in great need of repair, and are near 100 years old.  Using reclaimed materials also helps save new materials which would otherwise be used.   This is the Ultimate Green Log Cabin.   Most of the logs that are going to be used for this particular cabin were reclaimed from an old barn which was about to be destroyed.
Keep checking back as we will have more pictures and information as construction progresses on this unique Log Cabin.
Progress is coming along nicely on the Antique Cabin as of 6/20/2012.  Roof is decked, one of the 2 porches is ready for metal roof, we left off the rear porch for now so the mason can build the fireplace easier.  We're about to install the siding on the gables.
Check out the updated pictures of the cabin below.  Click on a thumbnail image for a slide show view of larger pictures.